This article is a stub. You can help Alliance of Valiant Arms Wiki by expanding it.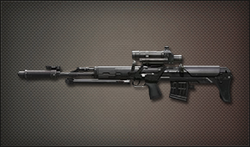 "

The OTs-03 SVU is a bullpup configuration of the SVD sniper rifle. The SVU was developed to meet the needs of the security forces of the Russian Ministry of Internal Affairs, such as OMON. A special muzzle brake was added that could absorb up to 40% of the recoil energy and an elastic butt stock with lamellar spring was non-rigidly attached to the receiver.

"



 

— Weapon Description 
The OTs-03A is a Sniper weapon currently available in KAVA probably heading to UAVA in matter of months.
A Very fast ROF, low damage and low ammo gun ,can be upgrade with mod.Very similar with HK417 Sniper but cannot mod ammo.
Modifications
Edit
Sharpshooter Barrel (+2.6 Accuracy ,+2.5 Auto Fire ACC, -0.06 Auto Fire)
Reinforced Rifling Barrel (+8 Damage, -0.24 Auto Fire)
Long Range Barrel (+7.1 Range)
Custom Trigger (+2.1 Stability ,-1.85 ROF)
Rapid-fire mechanism
Weight Grip (+0.9 Stability ,-0.8 Mobility)
Light Stock (+2 Mobility)
Heavy Stock (+0.1 Stability ,-2 Mobility
Fast reaction (-4.5 Range, +3.5 Accuracy, +3.3 Auto Fire ACC)
Notable Comparisons
Edit
OTs-03 SVU project started as an modernized SVD but developers realised that the configuration of the weapon would have to be completely altered leading to creation of the SVU. It was first seen in use in the First Chechen War.
OTs-03a in AVA SEA(this August update) is difference to all other AVA version.It buff damage and nerf ROF (Dam:80 ,ROF:28)
GIF Gallery
Edit
Ad blocker interference detected!
Wikia is a free-to-use site that makes money from advertising. We have a modified experience for viewers using ad blockers

Wikia is not accessible if you've made further modifications. Remove the custom ad blocker rule(s) and the page will load as expected.