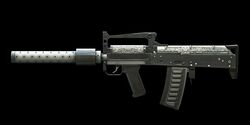 "

A custom model Ots-14 White Shark with an intricate design and elegant look. It's equipped with a high capacity magazine.

"



 

— Weapon description 
Overview
Edit
The OTs-14 Silverion is a skinned variant of the OTs-14 White Shark. It was first made available as a possible prize from a Red chest in Last Man Standing, then later in Aerias webmall. Statistically and performance-wise, it is identical to the White Shark (with +1 Bullet per magazine).
Modifications
Edit
Barrel
Burst Barrel (-1.0 ACC, -0.9 AutoFire ACC, +0.26 AutoFire)
Long Range Barrel II (+5.5 Range)
Reinforced Barrel (+4.0 ATK, -0.39 AutoFire)
Recommended Builds
Edit
Variants
Edit
Ad blocker interference detected!
Wikia is a free-to-use site that makes money from advertising. We have a modified experience for viewers using ad blockers

Wikia is not accessible if you've made further modifications. Remove the custom ad blocker rule(s) and the page will load as expected.