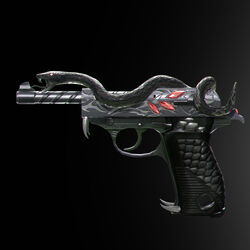 "

Soldiers carrying this pistol are recognized members of the Alliance Lobby. They are hit men who strike only if paid accordingly. It also features and increased magazine.

"



 

— Weapon Description 
A Mega Capsule prize, it was released in the 03-03-14 Content Update.
The Walther P38 is a skinned variant of the Walther P38. It was released as a Collection Bonus in Season 4 of Mega Capsules. Statistically and performance-wise, it is identical to the original with +1 Bullet per Clip.
See Walther P38
Notable Comparisons
Edit
https://www.youtube.com/watch?v=cOctDvfe7dY
Ad blocker interference detected!
Wikia is a free-to-use site that makes money from advertising. We have a modified experience for viewers using ad blockers

Wikia is not accessible if you've made further modifications. Remove the custom ad blocker rule(s) and the page will load as expected.