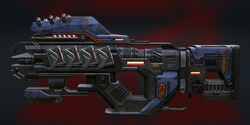 "

Let the shadows fall, the earth quake, and the seas boil! Bring about the End of Days with the heavily modified P90 Apocalypse

"



 

— Weapon Description 
The P90 Apocalypse is an upgraded version of the P90 that was released as the Jackpot for Fortune Stars Season 5. It is better that the original in nearly every way imaginable, with the exception of ammo count (50 -> 35). It is incredibly accurate with high range, high damage and it's 65.0 Armor Penetration basically melts through armor. It has a slightly higher amount of recoil than most other Pointman guns released these days, but simply dragging down on your mousepad can counteract this.
Modifications
Edit
None
Recommended Builds
Edit
In CQC, spray your heart out. It's high firerate with high damage and high armor penetration will annihilate anyone within 10m with ease.
At further distances, perform 2 or 3-shot bursts, aiming for the head or pelvis.
Don't use the scope on the gun, it's useless.
Notable Comparisons
Edit
Both weapons are Fortune Star Jackpots, both having high firerates, high damage and high range.
The actual name of this gun is called Stella Fortuna 9 in KAVA.
The number nine represent the season number of Fortune Star, which KAVA released it as Season 9.
Ad blocker interference detected!
Wikia is a free-to-use site that makes money from advertising. We have a modified experience for viewers using ad blockers

Wikia is not accessible if you've made further modifications. Remove the custom ad blocker rule(s) and the page will load as expected.