This article is a stub. You can help Alliance of Valiant Arms Wiki by expanding it.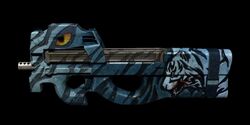 "

Modified version of the P90 with added damage. By using better materials for its parts, accuracy and stability has been increased. But because of the better materials to improve performance, its weight has also been increased.

"



 

— Weapon Description 
The P90 Harimau is a modified P90 first introduced during the 10-14-10 Content Update. It features a blue tiger stripe pattern camouflage and increased damage And Stability (The Recoil is Almost 0) at the cost of lowered mobility and range.
The P90 Harimau is an "allround gun" but one aspect that makes this gun so deadly is the large clip of 50.
Modifications
Edit
This gun has no modifications
Recommended Builds
Edit
This gun has no modifications.
AIM at head, this gun is a laser with high ammo capacity magazine.
When Silenced this gun has NO penetration, so Silencer Field Manual is a must
Notable Comparisons
Edit
From Tamil Arimaa (Malaysian); it means "majestic lion"
In Indonesian, it just means "tiger"
Tani Yutaka (known as Harimau); was a secret agent for the Japanese military. He died in a hospital in Singapore.
GIF Gallery
Edit
Ad blocker interference detected!
Wikia is a free-to-use site that makes money from advertising. We have a modified experience for viewers using ad blockers

Wikia is not accessible if you've made further modifications. Remove the custom ad blocker rule(s) and the page will load as expected.