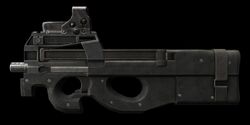 The P90 TR is a customizable version of the P90. It comes with a different scope and can be attached with various grips, barrels, sights, and more. As with most rail mods, the P90 TR does have increased recoil and reduced repair costs.
P90 belongs to the same DMG class of weapons as the Mp5k,Mp7,Uzi,Mp5a3,Mp5sd,Evo3, Although it's ROF is arguably lower then most of the weapons, Its high accuracy,stabuility,ammo count along with excelent Inscope function make it a verry viable alternative addapted to better range performance.
has verry nice inscope accuracy and recoil and is capable, the only downfall being some minor side to side recoil

Silencer decreases bloom: THe P90 TR is peculiar in that in game the weapon blooms way more then is described by the accuracy trait. Equiping a silencer noticebly drops the bloom rate.
Tricks and Tips
Edit
Modifications
Edit
Laser Sight (-0.7Mobility)
Burst Barrel (-0.7 Auto ACC, -0.8 Accuracy, +0.76 Auto Fire)
Top Class Sub-laser (No damage dropoff)
Veteran Mechanism (-5.7 Auto ACC, -6 Accuracy)
Lightened Trigger (+0.5 Auto ACC, +0.1 Accuracy)
Recommended Builds
Edit
Notable Comparisons
Edit
Ad blocker interference detected!
Wikia is a free-to-use site that makes money from advertising. We have a modified experience for viewers using ad blockers

Wikia is not accessible if you've made further modifications. Remove the custom ad blocker rule(s) and the page will load as expected.