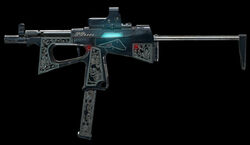 "

Insert text here, without quotes.

"



 

— Weapon Description 
Overview
Edit
The PP2000 Ignis fatuus is a skinned variant of the KBP PP2000 Galaxy. It was originally made available as part of the Ignis fatuus Box in the Capsule Shop, along with the PGM.338 Ignis fatuus and M14EBR Ignis fatuus. Statistically and performance-wise, it is identical to the Galaxy (with +2 Bullets per magazine).
The exterior is one of the best looking skins in the game. It has a dark grey base coat color, with silver engravings along the magazine, rail, grip, handle and butt of the gun. In the middle, just below the mount, is a bar of light that fades in and out.
Modifications
Edit
Barrel
Long Range Barrel (+8.0 Range, -0.3 ACC, -0.2 AutoFire ACC)
Burst Barrel (+0.74 AutoFire, -0.3 ACC, -0.2 AutoFire ACC)
Recommended Build(s)
Edit
Since the KBP already has fairly high AutoFire (11.76), I would recommend using the Long Range Barrel, improving it's flexibility in the battlefield.
Variants
Edit
"Ignis fatuus" refers to a type of light that will sometimes appear over swamps and marshes due to gas combustion
Ad blocker interference detected!
Wikia is a free-to-use site that makes money from advertising. We have a modified experience for viewers using ad blockers

Wikia is not accessible if you've made further modifications. Remove the custom ad blocker rule(s) and the page will load as expected.