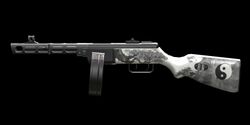 "

A specially customized SMG with a Tokyo Skin painted with Indian Ink.

"



 

— Weapon Description 
Overview
Edit
The PPSh-41 Dao is a skinned variant of the PPSh-41. It was origianlly released as a possible prize from Season 1 of Mega Capsules. Statistically and performance-wise, it is identical to the PPSh-41.
See PPSh-41
The exterior is a beautiful picture of a Japanese-style landscape, with bonsai trees above the trigger and at the end of the stock, and the yin-yang symbol on the stock.
Modificiations
Edit
None
Variants
Edit
In Chinese, "Dao" means "the absolute principle underlying the universe..."
Ad blocker interference detected!
Wikia is a free-to-use site that makes money from advertising. We have a modified experience for viewers using ad blockers

Wikia is not accessible if you've made further modifications. Remove the custom ad blocker rule(s) and the page will load as expected.