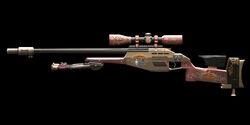 "

Based on the R93 Wolfpack, this majestic weapon takes the definition of quality to a different level entirely. Its craftmanship and the materials are exquisite.

"



 

— Weapon Description 
It was released on the 07/31/14 Content Update. It is from the Queen of Liberty capsule.
Modifications
Edit
Mount
Precision Scope (+3 Range)
Sharpshooter Scope
Barrel
Longe Range Barrel (+2 Range ,-1 Stability)
Reinforced Barrel (+8 Damage ,-1 RoF ,-1 Stability)
Trigger
7.62 PZ Shot Noise (-3 Range)
(Putting the 7.62 PZ Shot noise will make the weapon silenced , but the Tag rate will be increase drastically.)
Volt Trigger Type Replacement (-1 Accuracy,+2 RoF)
Recommended Builds
Edit
Sharpshooter Scope
Reinforced Barrel
Notable Comparisons
Edit
The May Queen represented in AVA, is a mythical figure.
May Queen also represents Spring or Summer, it may be related due to this capsule being released in July.
Unrelated to the game but related to it's developers' location; May Queen is also a Korean TV drama.
GIF Gallery
Edit
Ad blocker interference detected!
Wikia is a free-to-use site that makes money from advertising. We have a modified experience for viewers using ad blockers

Wikia is not accessible if you've made further modifications. Remove the custom ad blocker rule(s) and the page will load as expected.