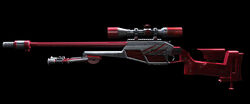 "

Light alloy applied to the frame and barrel. Enhanced model of Blaser R93 with improvement on the velocity of the bullet.

"



 

— Weapon Description 
The R93 Wolfpack is a Red Ticket weapon that was released in the 10/2/13 content update.
The R93 Wolfpack statistically does not show much difference to the standard Blaser R93, apart from the +1 in the Range. Supposedly the rifle is to have higher penetration said from the weapon description, the bullet has more velocity and therefore will tag less than its standard model. Treat this rifle like a normal Blaser R93.
Modifications
Edit
Mount
Precision Scope
Sharpshooter Scope
Barrel
Long Range Barrel (+7.3 Range ,-0.6 Stability)
Reinforced Barrel (+8 Damage)
Trigger
7.62 PZ Shot Noise (-6.8 Range)
Bolt Trigger Type Replacement (-8.5 Accuracy, -3.5 Range, -1.0 Stability)
Recommended Builds
Edit
One Hit Kill %
Edit
Notes:
14 Armor equipped
10 shots per distance
Shot at the arms
Barrel: Long Range Barrel 
Notable Comparisons
Edit
Ad blocker interference detected!
Wikia is a free-to-use site that makes money from advertising. We have a modified experience for viewers using ad blockers

Wikia is not accessible if you've made further modifications. Remove the custom ad blocker rule(s) and the page will load as expected.