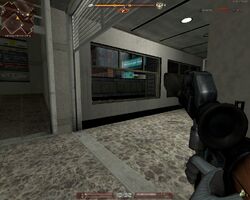 Rocket-Propelled Grenade Launcher
Single-Shot Rocket Launcher
100 (With the exception of flinching when shot)
1/2 (capacity box is infinite)
100 (With the exception of flinching when shot)
The RPG-7 is a miscellaneous weapon found only during Escort missions (in NRF bases) and the only weapon able to damage the tank in Escort. A direct hit from the RPG-7 will halve the Tank's Armour. Despite being an explosive, the RPG-7 has a small blast radius (for balance reasons) and is an inefficient way for killing infantry unless they are in a predictable location or are in the Gunner seat of the Tank. The RPG-7's slow travel speed will also give enough time for alert enemies to escape the warhead's blast radius, and therefore should be used discretly when dealing with infantry. One nice feature of the RPG-7 is that when it is shot, it has perfect accuracy: it will always hit where it is aimed at. Be wary when firing when flinching, however: the RPG-7 will travel where it is aimed at the exact moment it is fired.
GIF Gallery
Edit
Ad blocker interference detected!
Wikia is a free-to-use site that makes money from advertising. We have a modified experience for viewers using ad blockers

Wikia is not accessible if you've made further modifications. Remove the custom ad blocker rule(s) and the page will load as expected.