Players in A.V.A receive exp points after each match they play. Depending on how well they did, how long they stayed alive, how many rounds they won, the type of game being played, and if they won the game or not. the amount of exp awarded can greatly vary from match to match. Once a player has attained a certain amount of exp, they may increase in level. As levels increase, new things become available, such as armor and guns.
All players start at "Trainee".
Most guns become available at the "Staff Sergeant" Levels, such as the Remington870 (Staff Sergeant 1), the P90 (Staff Sergeant 2), and the TPG1 (Staff Sergeant 3). As the player goes through the trainee levels (All levels before Staff Sergeant), they will be awarded 10,000 Euros per level up. This allows easy weapon purchase upon reaching the required level of Staff Sergeant or higher.
Now there are "Level Up Rewards".
Articles describing ranks in more detail (categorized as ranks) can be found on the Cate
Complete list of all ranks:
Trainee

Private


Private First Class


Corporal


Sergeant


Staff Sergeant Lv 1


Staff Sergeant Lv 2

Staff Sergeant Lv 3


Staff Sergeant Lv 4

Staff Sergeant Lv 5


Sergeant First Class Lv 1


Sergeant First Class Lv 2


Sergeant First Class Lv 3


Sergeant First Class Lv 4

Sergeant First Class Lv 5


Master Sergeant Lv 1


Master Sergeant Lv 2


Master Sergeant Lv 3


Master Sergeant Lv 4


Master Sergeant Lv 5


Second Lieutenant Lv 1

Second Lieutenant Lv 2


Second Lieutenant Lv 3


Second Lieutenant Lv 4

Second Lieutenant Lv 5


First Lieutenant Lv 1


First Lieutenant Lv 2


First Lieutenant Lv 3


First Lieutenant Lv 4

First Lieutenant Lv 5


Captain Lv 1

Captain Lv 2


Captain Lv 3

Captain Lv 4


Captain Lv 5


Major Lv 1

Major Lv 2

Major Lv 3


Major Lv 4


Major Lv 5


Lieutenant Colonel Lv 1


Lieutenant Colonel Lv 2


Lieutenant Colonel Lv 3

Lieutenant Colonel Lv 4


Lieutenant Colonel Lv 5

Colonel Lv 1


Colonel Lv 2


Colonel Lv 3


Colonel Lv 4


Colonel Lv 5

Brigadier General Lv 1


Brigadier General Lv 2


Brigadier General Lv 3


Major General Lv1


Major General Lv2


Major General Lv3

Lieutenant General Lv1


Lieutenant General Lv2

Lieutenant General Lv3


General Lv1

General Lv2


General Lv3

Marshal Lv1


Marshal Lv2


Marshal Lv3



Level Up Rewards
Edit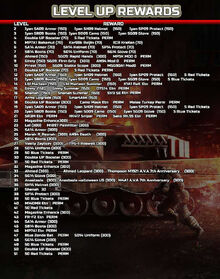 SOME REWARDS ARE OUTDATED -->Waiting for more informations
Experience Chart
Edit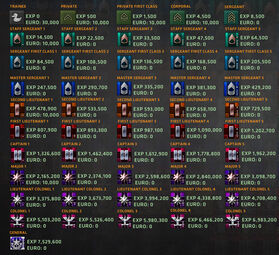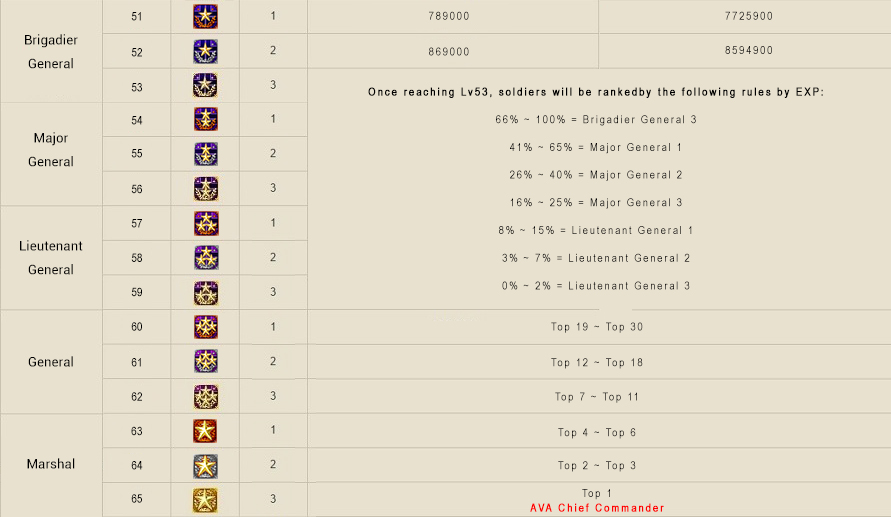 Ad blocker interference detected!
Wikia is a free-to-use site that makes money from advertising. We have a modified experience for viewers using ad blockers

Wikia is not accessible if you've made further modifications. Remove the custom ad blocker rule(s) and the page will load as expected.