This article is a stub. You can help Alliance of Valiant Arms Wiki by expanding it.
"

A textbook model of pump-action shotgun. The 870 features bottom-loading, tubular magazine under the barrel, and dual action bars. It's known for its reliability and easy-to-handle mechanism.

"



 

— Weapon Description 
The Remington870 is a Pointman weapon first introduced during the 11-11-09 Content Update. It is more commonly known as the R870, M870, 870 or just Remmy.
The 870 is a pump-action shotgun that deals quite a large amount of damage, killing most enemies in one shot so long as they are within optimum range. Due to its pump-action nature, the Remington870's Rate of Fire is rather slow. If enemies are not killed in the first shot, the user must wait for the weapon to cycle and risk getting killed or switch to a sidearm to finish the enemy off. The Remington870 has the advantage of being able to fire mid-reload because of its tube magazine, although the crosshairs are unavailable while in the process of reloading. The Remington870 is one of the most common shotguns in the game thanks to its extremely high one-hit kill capacity (currently the highest of all non-capsule shotguns) and low price tag, but is outperformed by the other Pointman weapons in the professional circuit due to its low Rate of Fire and Range. In the hands of an amateur, the Remington870 is seen as inefficient in killing enemies in quick succession because of its unforgiving Rate of Fire. With practice, however, the Remington870 can quickly tear through its opposition, never leaving its user unprotected thanks to its fierce damage and mid-reload firing ability.
Modifications
Edit
Recommended Builds
Edit
Either of the two mods are recommended as the barrel increases the number of pellets by one, allowing some increase in damage and the long range barrel which increases range, a very important stat to shotguns. The pellet mod allows for more damage, but it still retains the same range of the Remington 870. The Long range barrel increases the range by two, while lowering stability by one. The long range allows for the damage to retain just a bit more, allowing for the kill distance to increase by a significant amount. 
Notable Comparisons
Edit
The Remington 870 is the only pump action shotgun that should be used in co-op missions due to its relatively fast reload speed. With Magazine upgrade A, the reload speed of the 870 is insane.
The 870 ingame is modeled with a heat-shield,synthetic furniture,high-capacity magazine tube,ghost ring sights and shell holder.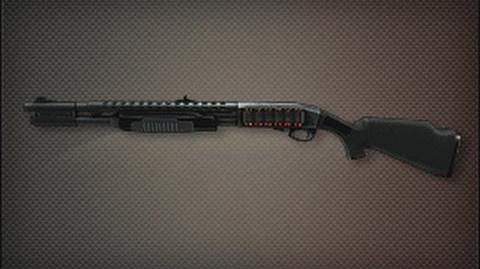 Ad blocker interference detected!
Wikia is a free-to-use site that makes money from advertising. We have a modified experience for viewers using ad blockers

Wikia is not accessible if you've made further modifications. Remove the custom ad blocker rule(s) and the page will load as expected.