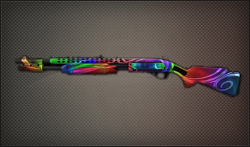 "

Kill in style with this gorgeous weapon!

"



 

— Weapon Description 
The Remington 870 Neon is a Pointman weapon first introduced during the _______ Content Update.
The Remington870 Neon has the same stats as the Blue Skull variant. (Its stats showed the regular 870's stats for a long time but has recently been corrected to show the correct stats).  
The only difference between the Blueskull and the 870 Neon is that the Neon retains the base models modability, making the Neon actually better than a Blueskull.  
Modifications
Edit
Barrel
Reinforced Ammo (Adds one extra pellet to each shot, Recommended by most.)
Long Range (Range +1.6)
Recommended Builds
Edit
Reinforced ammo is better because it basically increase your damage by about 12%
The bonus range from the range barrel is very minimal
Either of the two mods are recommended as the barrel increases the number of pellets by one, allowing some increase in damage and the long range barrel which increases range, a very important stat to shotguns. The pellet mod allows for more damage, but it still retains the same range of the Remington 870. The Long range barrel increases the range by two, while lowering stability by one. The long range allows for the damage to retain just a bit more, allowing for the kill distance to increase by a significant amount. 
Notable Comparisons
Edit
The Remington 870 is the only pump action shotgun that should be used in co-op missions due to its relatively fast reload speed. With Magazine upgrade A, the reload speed of the 870 is insane.
The Remington 870 Neon has a blue muzzle flash, similar to the Galil MAR's.
Ad blocker interference detected!
Wikia is a free-to-use site that makes money from advertising. We have a modified experience for viewers using ad blockers

Wikia is not accessible if you've made further modifications. Remove the custom ad blocker rule(s) and the page will load as expected.