This article is brand new! As such, some important information is currently missing.
"

Assault rifle state-of-the-art design in the Belgian company FN, was produced. Since it was chosen by the public recruitment examination of US SOCOM (U.S. Special Warfare Command), through the combat test, state-of-the-art model troops deployment is in progress. Can be modified to use a variety of applications through the exchange of each part, was, scalable standard equipment of the rail system features.

"



 

— Attribution 
The SCAR-L Origin is a Rifleman weapon first introduced during the 08-13-13 Content Update in Korean AVA.
The SCAR-L is an excellent assault rifle with good accuracy and ROF, with these stats it excels in close to medium range. It is on par with similar guns such as the AMD65 and Remington R4.
Recommended Builds
Edit
The gun does not feature any mods.
The SCAR-L has great accuracy and low recoil.After about 10 shot ,it will bloom quickly so It must not to spay at mid and long range. Therefore it has the potential to be a lethal weapon in mid-range. It is recommended to always aim for the head and control burst to negate it's rather low damage.
Notable Comparisons
Edit
The Remington Has More Damage(35),Range(50),Accuracy(82) And Stability (64) Also Its More Cheaper (34,000 Euros 30 Days) And Its Available At A Much Lower Rank,But It Has Less Mobility(51) And ROF(53)
The AMD More Damage (35),Range (45) And Mobility (63) Also The Possibility To Add Mods To It.But It Has Less Stability (35) And ROF (51)
The rifle's full name is FNH Special operations forces Combat Assault Rifle - Light
Ironically, it is a very modular rifle in real life, with a full complement of picatinny rails, however, ingame the rifle has no modifications available.
The ingame rifle is modeled after the 3rd Generation SCAR-L with the standard 14 inch (or 35.5cm) barrel
The rifle comes in 4 configurations, the SCAR-L (as depicted ingame), the SCAR-H (firing the same 7.62x51mm round as the SA-58 PARA), the SSR (or Sniper Support Rifle, again chambered in 7.62) and the SCAR PDW (Compact SBR chambered in 5.56x45mm, same as the SCAR-L).Each of these configurations have their own barrel lenghts aswell, for example the SCAR-H CQC (45,7cm) the SCAR-H STD (standard 40cm) and the SCAR-H LB (50cm long barrel).
The SCAR-L has the same firing sound as the Remington R4 ingame.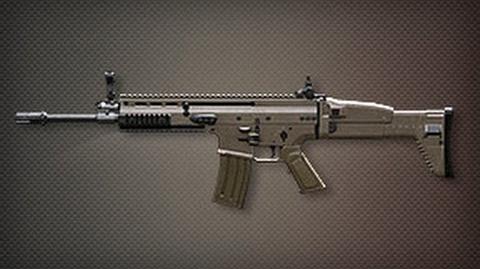 Ad blocker interference detected!
Wikia is a free-to-use site that makes money from advertising. We have a modified experience for viewers using ad blockers

Wikia is not accessible if you've made further modifications. Remove the custom ad blocker rule(s) and the page will load as expected.