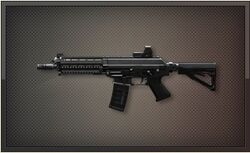 "

Shorter variant of SG550 assault rifle by SIG of Swiss. It has the shortest barrel and is used by many special forces such as France. It has high accuracy and reliability but comes with a high price as well.

"



 

— Weapon Description 
The SG552 RIS performs exactly like the commando despite its new look. Even though this gun has loads of recoil, with just a little practice, the Commando can perform just as well as AK-74u, as they have almost identical gameplay-style and statistics. Both need to be bursted in 3's, both have insanely high range for PM, and both have almost identical DPS. Overall, this gun can become the machine of death if one uses the Commando correctly.
Modifications
Edit
Laser Sight (-0.7 Mobility)
High Class Type Sub-laser (No damage dropoff, presumably renamed in ijji AvA to advanced silencer?)
Advanced Silencer (No damage dropoff penalty for using a Silencer at range)
High Class Type Trigger (-2.6 Range)
Aim Shot Reinforcements (Removes the usual RoF reduction when Aiming down the Sights and helps with ADS accuracy)
Silicon (Burst) Grip (+0.4 Accuracy, +1.7 Auto ACC)
Aim Shot Helper (Helps with Accuracy when aiming down the Sights)
Aim Shot Shock Absorber (Helps with Stability when Aiming down the sights.)
Recommended Builds
Edit
Notable Comparisons
Edit
To actually perform extremely well with this gun, it is best if you crouch and burst in 3's. Never go full auto unless if the target is no farther than 5m.
The rifle is actually a SIG P556, which is the civilian "pistol" variant of the SG556.
It has been customized with a Magpul MOE stock (which would be illegal to do for a civilian) and a Magpul 30 round PMAG.
GIF Gallery
Edit
Ad blocker interference detected!
Wikia is a free-to-use site that makes money from advertising. We have a modified experience for viewers using ad blockers

Wikia is not accessible if you've made further modifications. Remove the custom ad blocker rule(s) and the page will load as expected.