This article is a stub. You can help Alliance of Valiant Arms Wiki by expanding it.

Upgraded version of SG552. Also known as the SG552 Commando due to a naming error (see: "naming issues" section of the "SG552" page). The RIS is the true name of upgraded form, at least currently.
It is a carbine suffers whose unpredictable recoil patterns have made it fairly unpopular. However, aside from its recoil patterns it is a suprisingly high preformance weapon that features the second highest damage of all smgs (tied with the K1A1 Rail and only beaten by the AK-74u), an average RoF, great range, acceptable bloom, and decent mobility.
This is arguably one of the best silenced weapons in the game as its innately high damage (35) and range (30) can be combined with an advanced silencer, making it suprisingly effective for even medium range combat. However, this may take some dicipline, as the recoil of this gun is still noticable even when used properly.
As for Modifications, there are two general trends that can be followed: Higher stability from the hip, or higher overall preformance looking down the scope. Which trend to follow is generally of personal preference.
A few notes should be made:
1. Adding the Silicon Grip severely hurts this weapons capacity in CQC and should generally be avoided if one expects to fight in CQC often. However, it also makes the RIS significantly more accurate at longer ranges if the user can learn the tame the gradual-but-significant bloom.
2. Adding the Stock hurts the RISs moveshot, but increases its stand/crouchshot. [UNCONFIRMED]
3. The RIS does not sport great accuracy unless the Dot Sight and laser sight is added, which makes significant improvement.
The SG552 Commando is directly related to two popular assault rifles, the SG550 and the SG556.
Laser Sight (-0.7 Mobility)
High Class Type Sub-laser (No damage dropoff, presumably renamed in ijji AvA to advanced silencer?)
Advanced Silencer (No damage dropoff penalty for using a Silencer at range)
High Class Type Trigger (-2.6 Range)
Aim Shot Reinforcements (Removes the usual RoF reduction when Aiming down the Sights and helps with ADS accuracy)
Silicon (Burst) Grip (+0.4 Accuracy, +1.7 Auto ACC)
Aim Shot Helper (Helps with Accuracy when aiming down the Sights)
Aim Shot Shock Absorber (Helps with Stability when Aiming down the sights. See "Note 2" above.)
Notable Comparisons
Edit
* K1A1 Rail
The K1A1 has negligibly higher mobility (70 compared to 69)
The RIS has significantly higher accuracy (46 compared to 40), negiglibly higher RoF (68, 67) and negligibly higher Range (29, 28)
They share the same damage (35) Stability (30) and Clipsize (30)
The biggest difference is that the commando's recoil is unpredictable and harder to control than the K1A1, which makes the K1A1 more popular among players. However, the K1A1 is incapable of equipping a silencer whereas the RIS is still able to. This is especially important as the RIS can mod an advanced silencer, making it even more effective.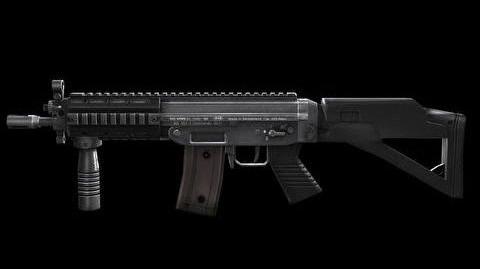 Ad blocker interference detected!
Wikia is a free-to-use site that makes money from advertising. We have a modified experience for viewers using ad blockers

Wikia is not accessible if you've made further modifications. Remove the custom ad blocker rule(s) and the page will load as expected.