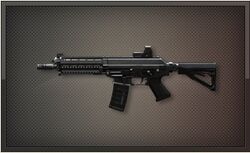 An upgraded version of SG552 RIS with improve DMG ,Stab ,Mob and ROF. This gun doesnt really have any bloom but has more recoil than SG552 RIS, so you have to burst fire instead of just spraying it. With the advanced silencer mod this gun can be effective at eliminating shot/mid range targets before they even knew what hit em. When scoped in and crouching it acts like an ak-107 bis with a little more recoil.
Modifications
Edit
Advanced Silencer (No damage dropoff penalty for using a Silencer at range, still decrease the piercing ability to 0 when mounted)
Adv. Trigger (-1 Range ,+2 Stability)
Aim Shot Mech Kit (Removes the usual RoF reduction when Aiming down Sights and helps with ADS accuracy)
Silicon Grip (+1 Stability)
Aim Shot Helper (Helps with Accuracy when aiming down the Sights)
Aim Shot Shock Absorber (Helps with Stability when Aiming down the sights.
Recommended Builds
Edit
Hipfire Build Edit
Advanced Silencer
Adv. Trigger
Silicon Grip
Aim Shot Shock Absorber
Reccomended Build Edit
Advanced Silencer
Aim Shot Mech Kit
Silicon Grip
Aim Shot Shock Absorber
Spraying only works up close so burst.
When you have good cover/vantage use the red dot sight to eliminate enemies almost as good as the ak107bis.
Notable Comparisons
Edit
The name of this weapon is real life is SG556 Shorty
In A.V.A S.A.M (aka Garena A.V.A), its name is "SG552 Commando", and this is incorrect.
GIF Gallery
Edit
Ad blocker interference detected!
Wikia is a free-to-use site that makes money from advertising. We have a modified experience for viewers using ad blockers

Wikia is not accessible if you've made further modifications. Remove the custom ad blocker rule(s) and the page will load as expected.