This article is brand new! As such, some important information is currently missing.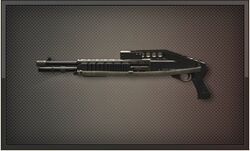 An "not very upgradable" upgrade version of SPAS-12 with only 2 more Acc.Like his brother ,not so powerful but can create follow-up shots ,still low ammo capacity like a drawback and CANNOT be mod
Modifications
Edit
No Mod
Recommended Builds
Edit
No Mod for this gun
Always get closer to your enemy as much as possible, and finish them off with a pistol if needed.
Never zoom
Reload often.
When reloading, find a safe place
Shoot at the enemy more than once to confirm that he/she is dead.
Make "follow up" shots
Notable Comparisons
Edit
SPAS-12
Ad blocker interference detected!
Wikia is a free-to-use site that makes money from advertising. We have a modified experience for viewers using ad blockers

Wikia is not accessible if you've made further modifications. Remove the custom ad blocker rule(s) and the page will load as expected.