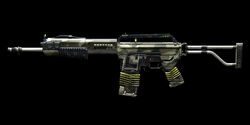 "

Swift and deadly as a samurai, this camouflaged shotgun will take out your enemies before they even know they've been hit.

"



 

— Weapon Description 
Overview
Edit
The SPAS-15 Death Valley is a skinned variant of the SPAS-15. It was originally released as a possible reward from completing Death Valley 2.0 on Easy mode. Statistically and performance-wise, it is identical to the SPAS-15.
The exterior of the gun has a camouflage base coat, with lots of scratched paint and dirt throughout the gun. The grip and magazine have cloth grips wrapped around them and the carrying handle has the number 5 scratched into it.
See SPAS-15
Modifications
Edit
Trigger
Trigger Set Type 1 (-3.0 ATK, -1.5 Range, +0.3 ACC, +0.2 AutoFire ACC, +0.31 AutoFire)
Trigger Set Type 3 (+8.0 ATK, +5.8 Range, -11.3 ACC, -8.9 AutoFire ACC, -0.91 AutoFire)
Recommended Build(s)
Edit
Variants
Edit
There used to be a Trigger Set Type 2 for the SPAS-15, but it was deemed too overpowered compared to other guns and was removed from the game.
Ad blocker interference detected!
Wikia is a free-to-use site that makes money from advertising. We have a modified experience for viewers using ad blockers

Wikia is not accessible if you've made further modifications. Remove the custom ad blocker rule(s) and the page will load as expected.