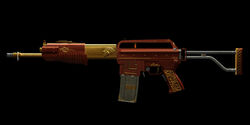 "

Unknown

"



 

— Weapon Description 
Overview
Edit
The SPAS-15 Jiao is a skinned variant of the SPAS-15 that was originally released in the Mega Capsule Season 1. Performance-wise, it is identical to the regular SPAS-15, but with +1 Shell per magazine.
Modifications
Edit
Set Trigger Type 1 (ATK -3, Range -1.5, Accuracy +0.3, Auto Fire ACC +0.2)
Set Trigger Type 3 Post Nerf (ATK +8, Range +5.8, Accuracy -11.3, Auto Fire ACC -8.9)
Recommended Builds
Edit
Trigger Set Type 3 is usually the better of the two mods. Trigger 3 allows it to One Shot opponents, but because of the zero penetration, enemies often tank as well. 
No trigger is a better alternative and has an effectiveness rivaling that of Type 3. 
Type 1 is plain ridiculous. The lowered accuracy and range makes it an inaccurate spraying shotgun, which reduces its effectiveness, making it worse, despite having higher Rate of fire.
Variants
Edit
Notable Comparisons
Edit
Ad blocker interference detected!
Wikia is a free-to-use site that makes money from advertising. We have a modified experience for viewers using ad blockers

Wikia is not accessible if you've made further modifications. Remove the custom ad blocker rule(s) and the page will load as expected.