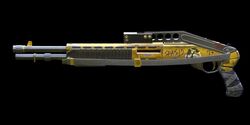 "

A Battlefield also needs Pioneers! To honor those tireless gear heads, we designed this weapon with them in mind.

"



 

— Weapon Description 
Overview
Edit
The SPAS Pioneer is a skinned variant of the SPAS-12 Catena. It was originally released in the "Pioneer" line of skins, along with the M4A1 Pioneer, Mosin Nagant Pioneer and Wrench Pioneer. Statistically and performance-wise, it is identical to the Catena (with +1 Bullet per "magazine").
See SPAS-12 Catena
The exterior features a yellow base coat, with black accents. The paint on the gun is scratched in placed, making it look worn down and used. Above the trigger, you can see a pinup girl posing.
Modifications
Edit
None
Variants
Edit
Ad blocker interference detected!
Wikia is a free-to-use site that makes money from advertising. We have a modified experience for viewers using ad blockers

Wikia is not accessible if you've made further modifications. Remove the custom ad blocker rule(s) and the page will load as expected.