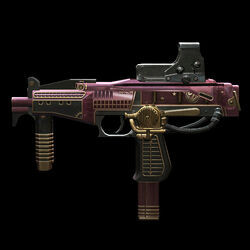 "

The SR-2M Red Onyx is based on the Veresk SR-2M, and decorated with an image celebrating all seven years of the world. A brand new magazine promises greater ammo capacity.

"



 

— Weapon Description 
Overview
Edit
The SR-2M Red Onyx is a skinned variant of the SR-2M Veresk Origin. It was originally released in the Red Onyx Box in the capsule shop, along with the M14EBR Red Onyx and PGM.338 Red Onyx. Statistically and performance-wise, it is identical to the Veresk Origin (with +2 Bullets per magazine).
The exterior has a base coat of a dark red, resembling the color of a real, red onyx. The engravings of gears and stars on the side of the gun with the tubes and odd looking brass object on the side give off a certain "steampunk" vibe when using this gun.
Modifications
Edit
Burst Barrel (Accuracy -0.8, Auto Fire ACC -0.3, Auto Fire +0.83)
Sharpshooter Barrel (Accuracy +1.5, Auto Fire ACC +1.1, Auto Fire -0.87)
Mechanism Improvement (Auto Fire ACC -0.5, Auto Fire +0.83)
Magazine Replacement (Ammo +10, Mobility -1.0)
Silicon Grip (Accuracy +0.3, Auto Fire ACC +3.5)
Ergonomic Grip (Accuracy +1.1, Auto Fire ACC +0.9)
Recommended Build(s)
Edit
Burst Barrel, Magazine Replacement, Ergonomic Grip
Do not rush aimlessly. Even though the Pointman is the fastest class, if you go offsides blinded campers/sound players will kill you instantly.
Do not fight over 30 meters; your gun will do no damage. Keep your fights under 30 meters.
Bursting in 5-10 bullets to keep a small crosshair.
Variants
Edit
This is the only Veresk skin in the game where the stock is unfolded when the player is holding it
Ad blocker interference detected!
Wikia is a free-to-use site that makes money from advertising. We have a modified experience for viewers using ad blockers

Wikia is not accessible if you've made further modifications. Remove the custom ad blocker rule(s) and the page will load as expected.