This article is a stub. You can help Alliance of Valiant Arms Wiki by expanding it.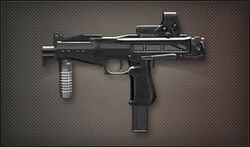 "

A Russian made SMG with high penetration using 9 x 21mm bullets. It is compact, light, and reliable. Designed as an anti-terrorist weapon, this SMG provides an intense firepower at close range.

"



 

— Weapon Description 
The SR-2M Veresk is a Sub Machine Gun first introduced during the 01-12-11 Content Update.
Once considered one of the top tier SMGs alongside the MP7A1 and, to a lesser degree, the AKS-74U, the SR-2M Veresk's lower stability and accuracy are balanced by a high rate of fire, damage, decent range and high mobility, allowing players to get into its most effective range. For players that can handle the recoil and cross hair bloom, this means higher damage over range compared to the MP7 and slightly more reliable close quarters effectiveness compared to the AKS-74U.
This weapon has been called the "Para of Pointmen", due to it's difficulty in using it past close quarters, even if it has an extreme ROF and high damage. Also, the Veresk sports unusually high penetration and can tear through armor quickly, similar to the Para. Bursting with this weapon has less recoil then an MP7, if only for a few shots. Those few shots in close quarters however, will usually be enough to take down an enemy. Aiming for the upper chest/neck is advised. This gun is low ammo with certain mods, so look out.
Modifications
Edit
Burst Barrel (Accuracy -0.8, Auto Fire ACC -0.4, Auto Fire +0.83)
Sharpshooter Barrel (Accuracy +1.5, Auto Fire ACC +1.2, Auto Fire -0.87)
Mechanism Improvement (Auto Fire ACC -0.5, Auto Fire +0.83)
Magazine Replacement (Ammo +10, Mobility -1.0)
Silicon Grip (Accuracy +0.3, Auto Fire ACC +2.1)
Ergonomic Grip (Accuracy +1.1, Auto Fire ACC +0.9)
Recommended Builds
Edit
Burst Barrel (Accuracy -0.8, Auto Fire ACC -0.4, Auto Fire +0.83)
Magazine Replacement (Ammo +10, Mobility -1.0)
Ergonomic Grip (Accuracy +1.1, Auto Fire ACC +0.9)
Do not rush aimlessly. Even though the Pointman is the fastest class, if you go offsides blinded campers/sound players will kill you instantly.
Do not fight over 30 meters; your gun will do no damage. Keep your fights under 30 meters.
Bursting in 5-10 bullets to keep a small crosshair.
Notable Comparisons
Edit
AKS-74u (unmodded)
Edit
The Veresk has MUCH higher mobility (90 to AKs-74u's 70) and MUCH higher RoF (81 to 65). The AKS-74U Has notably higher Damage (36 to Veresk's 33) and MUCH Higher Range (30 to Veresk's 22). They Share the same Accuracy (40) Stability (28) and Clip Size (30)
Note that the AKS-74u isn't as moddable as the Veresk since the AKS does not have a scope, nor does its have mods as potent as the Veresk's.
The Veresk has MUCH higher Damage (33 to MP7's 27), and negigibly higher range (22 to 20). Since they share the same RoF and Veresk has higher Dmg, the Veresk has a higher DPS. Though no stat defends this, it is often percieved that the Veresk has higher Penetration.
The MP7A1 has negigibly higher Accuracy (42 to Veresk's 40) MUCH higher stability (44 to 28), negligibly higher mobility (92 to 90, assuming the Veresk uses the Ammo Mod.), and a much larger clip (40 to Veresk's 30, again assuming the Ammo Mod.) It also has a Laser sight mod (+1 Acc, -1 Mobility) not available to the Veresk.
Although they have the exact same RoF (81), the MP7's RoF does not drop when using the scope, and (depending on which barrel is used) usually fires 0.5 bullets per second faster, whereas veresk's problematic recoil and bloom need to be dealt with by bursting, further disadvantaging it. Japanese AVA wiki - rof comparison
According to the in-game model of the Veresk, the Veresk appears to be the smallest primary in the game. However, according to the stats presented on this wiki, it is actually beaten by two weapons length-wise when both extended and folded; the KBP PP2000 and the P90.
The Veresk is one of the few SMGs unable to equip a supressor, which reduces stealth capablities.
This weapon is used by Bots in "Canon: [AI] Demolition"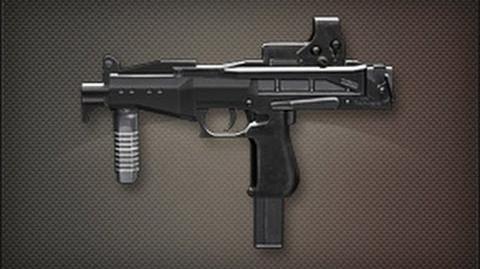 Ad blocker interference detected!
Wikia is a free-to-use site that makes money from advertising. We have a modified experience for viewers using ad blockers

Wikia is not accessible if you've made further modifications. Remove the custom ad blocker rule(s) and the page will load as expected.