This article is a stub. You can help Alliance of Valiant Arms Wiki by expanding it.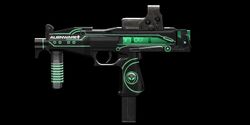 "

A weapon painted in a unique pattern and is used by rogue troops. A very mysterious model...

"



 

— Weapon Description 
The SR-2M Veresk Roswell is a custom variant of the SR-2M Veresk first released for the "UFO" loot wheel, winnable through the spending of Aeria Points.
The name of this gun is a reference to the Roswell incident where a UFO supposedly crashed into the town of Roswell. The custom paintjob of the Roswell looks like a high tech cybernetic cover, referencing to aliens.
Following KAVA's endorsement from Alienware, six "Roswell" weapons were created, each sporting the Alienware logo. Two weapons were made for each class: the SR-2M Roswell and MP7A1 Roswell for Point Man, the M4A1.MK3 Roswell and FG42 Roswell for Rifle Man, and the TPG1 Roswell and Mosin-Nagant Roswell for Sniper. This gun is the fourth of the Roswell series to be brought over to UAVA.
Ad blocker interference detected!
Wikia is a free-to-use site that makes money from advertising. We have a modified experience for viewers using ad blockers

Wikia is not accessible if you've made further modifications. Remove the custom ad blocker rule(s) and the page will load as expected.