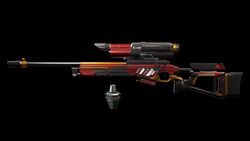 "

A customized SV98 SR based on the Silver Arrow used in the ARGUS project. The SV98 ARGUS features an expanded magazine for greater ammo capacity.

"



 

— Weapon description 
Overview
Edit
The SV98 ARGUS was part of the Fortune Stars Season 8 which was part of the 12/20/2016 "Holiday Havoc" update.
The SV98 ARGUS has the same stats of the SV98 Silver Arrow, making it a formidable sniper rifle to use. Although it's 1 hit kill potential isn't as high as other higher power snipers, the SV98 shines in it's speed. The scope-in and scope-out speed of the SV98 ARGUS's scope is insanely fast, accompanied by a lightning fast draw speed, it can be one of the fastest firing bolt action sniper rifles in the game.
This gun also has a unique Mount modification only available to guns that were in the ARGUS series. It's a 3D floating ammo counter that floats next to your weapon.
Mount:
ARGUS Ammo Counter

An ammo counter that floats next to your weapon when holding.
Variants
Edit
SV98 Cotton Candy
SV98 Silver Arrow
Notable Comparisons
Edit
This variant of the SV98 uses the unique scope model that is only seen on the DSR-1 Ultimate Custom.
Ad blocker interference detected!
Wikia is a free-to-use site that makes money from advertising. We have a modified experience for viewers using ad blockers

Wikia is not accessible if you've made further modifications. Remove the custom ad blocker rule(s) and the page will load as expected.