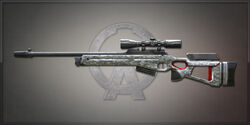 Overview
Edit
It is a sniper rifle that is almost as quick as a semi,because of its swap speed almost (or actually) faster than the Mosin Nagant. Though the Sv98 SnowCamo has the exact same mods as SV98-Bis besides the scope. Even so, the gun will have a tendency to tank against 08 armor (unless if you chest shot them) or 09 armor (only OHKS if you headshot or nutshot).
Modifications
Edit
Mount
Accuracy Scope (+3 Range)
Barrel
7.62 x 54 R Barrel (+5 Damage, -2 Stability)
Trigger
Accuracy Trigger (+1 Accuracy, -1 Stability)
Veteran Mechanism (+1 RoF)
Grip
Swing Grip (Increase in accuracy)
Variants
Edit
You do not need to worry about the gun tagging,just keep shooting because of its blazing fast swap speed and its quick scope II (for the"blazing fast speed"to happen,09 gloves will be needed)
[img]http://ava.wikia.com/wiki/File:SV98.jpg[/img]
Ad blocker interference detected!
Wikia is a free-to-use site that makes money from advertising. We have a modified experience for viewers using ad blockers

Wikia is not accessible if you've made further modifications. Remove the custom ad blocker rule(s) and the page will load as expected.