Ad blocker interference detected!
Wikia is a free-to-use site that makes money from advertising. We have a modified experience for viewers using ad blockers

Wikia is not accessible if you've made further modifications. Remove the custom ad blocker rule(s) and the page will load as expected.
This article is a stub. You can help Alliance of Valiant Arms Wiki by expanding it.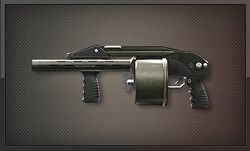 "

"It fires 12 shots at light speed. The nickname of this gun is "Espresso Double Shot x6." The inhumane amount of "whip" cream makes it a bad taste to swallow."

"



 

— Weapon Description 
Known to be the most overpowered pointman weapon in the game, overpowering even the infamous Desmodus and SA58 PARA in DPS with a massive 3000+ DPS, it dominates CQC. The Striker12 sports the highest ROF of any shotgun, as well as the highest ammo capacity and fluctuating damage, it can cause bodies to pile up with ease. The only drawback of the Striker12 is the slow and annoying reload time and the random damage range.
Modifications
Edit
Random damage barrel - Increases the damage range of the Striker-12.
Enhance fire trigger - + 3 Rof, -2 Stability and supposedly lowers range. 
Recommended Builds
Edit
The build is entirely up to the player's style. The random damage barrel increases the damage range to ridiculous heights, while the Trigger trades off much needed accuracy for Rate of fire. The random damage barrel had a tendency to screw with the player and often requires from 1 shot to several in order to kill, as well as become a saving grace by killing with one shot beyond 15 meters. The efficiency of the Damage Barrel depends on how lucky the player is, as it is a gambler's mod. The trigger is for those who want to fire faster. The trigger requires that you zoom in if you want to be able to land all hits on your opponent if you even want to have a chance at killing him beyond 8 or so meters.
The most reliable build is to use no modifications at all. The Striker 12's natural stats make it a very powerful shotgun, and the damage range is much stable, which allows for consistent damage
Overall, it is up to the player to choose whether or not he/she chooses a mod. Picking a mod means that you are willing to gamble with the Striker 12. 
Always reload whenever you have the chance. Reloading during a live fight makes you an easy target.
Tap fire or spray for a maximum of 4 shots when encountering a single enemy. The Striker 12 has decent damage and amazing Rate of fire for a shotgun, allowing it to take out enemies quickly. 
Spray only if the enemies outnumber you. This weapon only holds 12/12 without any pointman skills. With the long reload time, having ammo below 4 could cause you to end up dead. 
Zooming in is recommended for longer ranges since the smaller crosshair allows for tighter shot groupings. Rate of fire will be lowered, but because of the strikers erratic damage range, it will all depend on luck whether or not the enemy survives. 
The Striker is widely used by Tower Defenders due to heavy  close quarters action. See http://ava.wikia.com/wiki/Tower_Defending
Notable Comparisons
Edit
GIF Gallery
Edit