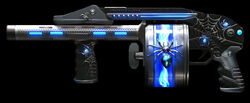 1.4s per shell (16.8s for full clip)
"

A prototype shotgun model based on the Striker 12, with titanium nitride coatings on the metallic surfaces, for improved durability and increased magazine capacity with the introduction of new magazine tech.

"



 

— Weapon Description 
The Striker 12 Black Widow is a skinned variant of the Striker 12. It was first made available as a possible prize in the Black Widow Box in the capsule shop during the 08-24-2016 patch. In the box was also the SG556 Black Widow and the DSR-1 Black Widow. Statistically and performance-wise, it is identical to the original Striker 12.
The exterior is a beautiful design, consisting of spider-themed engravings, titanium colors and a unique blue glow radiating throughout the gun.
See Striker 12
Modifications
Edit
Barrel
Random-Damage Barrel (+6.5 ATK, -1.5 Damage Deviation)
Trigger
Rapid-Fire Trigger (-0.4 Recoil Control, +0.16 AutoFire)
Recommended Builds
Edit
Most players will use both mods. Definitely use the Rapid-Fire Trigger, however the Random-Damage Barrel is up to you.
Notable Comparisons
Edit
On the stock of the gun, it reads, Latrodectus mactans, which is the Latin name for the Southern Black Widow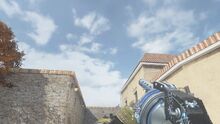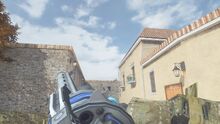 Ad blocker interference detected!
Wikia is a free-to-use site that makes money from advertising. We have a modified experience for viewers using ad blockers

Wikia is not accessible if you've made further modifications. Remove the custom ad blocker rule(s) and the page will load as expected.