This article is a stub. You can help Alliance of Valiant Arms Wiki by expanding it.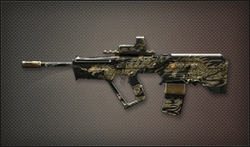 "

Bull pup assault rifle by IMI of Israel. Also known as 'TAVOR'. It includes advanced red-dot reflex sight and can be mounted with different scopes. TAVOR's ergonomics design is known for its practicality and stability.

"



 

— Weapon Description 
TAR-21 Tiamat is and Assault Rifle released in the 9/24/2012 content update. Being released as a Euro capsule weapon. Overall, an excellent weapon. A nice damage boost of +3 more damage, +7 more range, +2 accuracy. This weapon is very easy to handle and can get headshots fairly easy. Burst firing or tap fire will sustain its great stability, all though putting it on fully automatic, the crosshair has a horizontal spread. This weapon will put down many enemies like flies. Well, as long as you have ammunition left to do so.
Modifications
Edit
None
Recommended Builds
Edit
No modifications available
Burst fire or tap fire for a small crosshair and greater accuracy.
Notable Comparisons
Edit
"Tiamat" is from Babylonian mythology. The appearance is often a sea serpent or dragon. Displayed on the gun, a dragon.
The eyes of the dragon glow gold in the dark.
Ad blocker interference detected!
Wikia is a free-to-use site that makes money from advertising. We have a modified experience for viewers using ad blockers

Wikia is not accessible if you've made further modifications. Remove the custom ad blocker rule(s) and the page will load as expected.