This article is a stub. You can help Alliance of Valiant Arms Wiki by expanding it.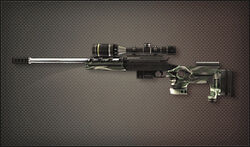 "

Bolt Action sniper rifle designed by Unique Alpine AG of Austria. Its replaceable parts allows usage of different size of cartridges and it also has rail system that mounts various accessories.

"



 

— Weapon Description 
The TPG-1 is a Sniper weapon released on AVA's launch date.
The infamous TPG1 is considered the only "true" one-hit-kill sniper rifle, with a base damage of 100 which can be upgraded by using the Lapua Magnum to 110. Although it has extremely low mobility, RoF, magazine size, and ADS time, the TPG1's weaknesses are usually overlooked simply because of it's raw power (having a near perfect 1 hit kill) and accuracy. It is currently one of the few sniper rifles in-game which can be modified to achieve 100% accuracy (at the expense of stability, however).
One of the main hindrances of the TPG1 against other sniper rifles is it's agonizingly slow scoping speed. This can cause the user to lose firefights during Sniper-only games because every other sniper in the game has a faster ADS time. Because of this, it is recommended that the user "hardscopes" when attempting to get kills. However, hardscoping also has major drawbacks including limited visibility, difficulty hitting laggy players as well as lower mouse sensitivity until you scope out, but even so, this is usually negated if one is used to the sensitivity of their mouse. If, however, your opponent misses his/her first shot, it is highly recommended NOT to quickswitch (QQ) if you also miss your first shot because the game will automatically re-scope the TPG1 almost 3 times quicker, granting you the possibility of killing the other player, especially if you are within close range and cannot find cover.
Modifications
Edit
High-powered Scope (+4 Range)
.338 Lapua Barrel (+10 Damage, -2 Stability)
Accuracy Trigger (+1 Accuracy, -1 Stability)
Ergonomic Grip (+1 Accuracy)
Weight Grip (+1 Stability, -1 Mobility)
Heavy Stock (+2 Stability, -2 Mobility)
Shock Absorber (+1 Accuracy, -1 Stability)
Recommended Builds
Edit
High-powered Scope (+4 Range)
.338 Lapua Barrel (+10 Damage, -2 Stability)
Ergonomic Grip (+1 Accuracy)
Notable Comparisons
Edit
The rifle's full name is Unique Alpine Taktisches Präzisions Gewehr - 1, or Tactical Precision Rifle if you arent from Germany.
Ingame it features a custom paintjob on the hanguard and stock, along with a stainless steel barrel, bolt, and charging handle.
thumb|none|300px|TPG Gamepray By SnowShovel thumb|left|300px thumb|left|300 px
Ad blocker interference detected!
Wikia is a free-to-use site that makes money from advertising. We have a modified experience for viewers using ad blockers

Wikia is not accessible if you've made further modifications. Remove the custom ad blocker rule(s) and the page will load as expected.