This article is a stub. You can help Alliance of Valiant Arms Wiki by expanding it.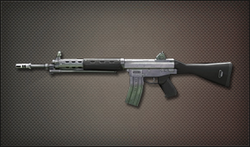 "

Japanese assault rifle used by the Japan Self-Defense Forces, the Japan Coast Guard's Special Security Team units and the Special Assault Team.

"



 

— Weapon Description 
The Type89 is a mega capsule weapon coming in different skins that is available in UAVA. Though the skinned variants being permanent, the Type89 (unskinned) is in no way obtainable in a permanent version. Overall, the gun is really stable, has decent accuracy, and medium penetration. The gun can be sprayed from close-mid range, but must be bursted with over 30m+.
Modifications
Edit
No mod for this gun
Recommended Builds
Edit
Like it say...no mod
Notable Comparisons
Edit
Type89 full name is Howa Type 89
The Type89 is only used by the JSDF and its branches because Japan chose not to export it, making it a weapon used primarily by one country.
In Taiwanese AVA, this gun is Available in Euro Shop with cost €120.000 for Permanent and 170 RT in Japanese AVA for Permanent.
Ad blocker interference detected!
Wikia is a free-to-use site that makes money from advertising. We have a modified experience for viewers using ad blockers

Wikia is not accessible if you've made further modifications. Remove the custom ad blocker rule(s) and the page will load as expected.