This article is a stub. You can help Alliance of Valiant Arms Wiki by expanding it.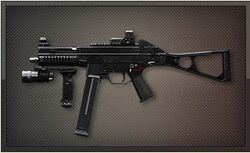 An upgrade ver of UMP with the same game play
Modifications
Edit
Laser Sight (+1 Accuracy, -1 Mobility)
9mm Para. Barrel (+2 Accuracy, +5 Ammo, -3 Damage)
Long Range Barrel (+2 Range, -1 Stability)
Mechanism Upgrade (+1 RoF, -1 Accuracy)
Soft Grip (+2 Stability, -1 Accuracy)
Carbon Grip (+1 Stability)
Custom R.C Stock (+1 Accuracy)
Recommended Builds
Edit
Just modded it like UMP45
Notable Comparisons
Edit
UMP45:The Mod 0 ver has 1 more Stability(31 to 30) and 1 pointless ROF (69 to 70).All other stats are the same
GIF Gallery
Edit
Ad blocker interference detected!
Wikia is a free-to-use site that makes money from advertising. We have a modified experience for viewers using ad blockers

Wikia is not accessible if you've made further modifications. Remove the custom ad blocker rule(s) and the page will load as expected.