Ad blocker interference detected!
Wikia is a free-to-use site that makes money from advertising. We have a modified experience for viewers using ad blockers

Wikia is not accessible if you've made further modifications. Remove the custom ad blocker rule(s) and the page will load as expected.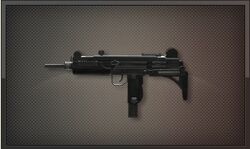 An upgraded version of the UZI that is in the current version of Korean AVA. Could be heading to UAVA in a matter of months.
An improve (and replacement) version of Uzi with more buff stat and easier to control than old version.
Modifications
Edit
Mount
Dot (x2 HS) (+3 Accuracy)
Barrel
Burst Barrel (+2 RoF ,-1 Accuracy)
Trigger
Exchangeable Magazine Type (+7 Ammo ,-2 Mobility)
Grip
Silicon Grip (+1 Stability)
Soft Grip (-1 Accuracy ,+2 Stability)
Recommended Builds
Edit
Total:+2 ROF ,+1 Stability ,+7 Ammo ,+2 Accuracy ,-2 Mobility
Close-range - Spray at body or burst at head. With its high DPS it will lead to easy head shots
Mid-range - Try to shorter distance to close-range. If you have to face the enemy make short bursts while moving.
Long-range - Never engage enemy. If you have no choice, try to short out distance then burst
Notable Comparisons
Edit
Uzi:The Mod 0 ver has 1 more range (21 to 20) ,1 more Accuracy (41 to 40) much higher Mobility (85 to 80) and 1 more ROF (83 to 82).They share same Damage (30) and Stability (28)