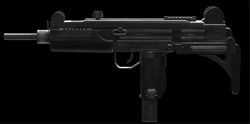 An upgraded version of the UZI that is in the current version of Korean AVA. Could be heading to UAVA in a matter of months.
An improve (and replacement) version of Uzi with more buff stat and easier to control than old version.
Modifications
Edit
Barrel
Burst Barrel (Accuracy -0.3, Auto Fire ACC -0.2, Auto Fire +1.04)
Trigger
Exchangeable Magazine Type (Ammo +7, Mobility 0.7)
Grip
Silicon Grip (Accuracy +0.5, Auto Fire ACC +5.9)
Soft Grip (Accuracy -1.6, Auto Fire ACC -0.3)
Recommended Builds
Edit
Total:+2 ROF ,+1 Stability ,+7 Ammo ,+2 Accuracy ,-2 Mobility
Close-range - Spray at body or burst at head. With its high DPS it will lead to easy head shots
Mid-range - Try to shorter distance to close-range. If you have to face the enemy make short bursts while moving.
Long-range - Never engage enemy. If you have no choice, try to short out distance then burst
Notable Comparisons
Edit
Uzi:The Mod 0 ver has 1 more range (21 to 20) ,1 more Accuracy (41 to 40) much higher Mobility (85 to 80) and 1 more ROF (83 to 82).They share same Damage (30) and Stability (28)
Ad blocker interference detected!
Wikia is a free-to-use site that makes money from advertising. We have a modified experience for viewers using ad blockers

Wikia is not accessible if you've made further modifications. Remove the custom ad blocker rule(s) and the page will load as expected.