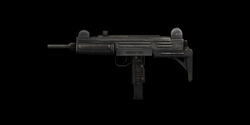 "

SMG designed by IMI of Israel. Its simple mechanism offers easy-to-repair and reliable weapon. It has short length and the magazine is housed in the pistol grip, allowing for a heavier, slower-firing bolt in a shorter, better-balanced weapon.

"



 

— Weapon Description 
Overview
Edit
The Uzi is a submachine gun that is available only to the Pointman class. Its main selling factor is its excellent rate of fire, which greatly makes up for its low damage, low range, and low stability – provided that the weapon is used at near point-blank range. At any longer ranges, the effectiveness of the Uzi rapidly diminishes, as it both loses its damage rapidly and becomes harder to control. Its recoil is high but mostly vertical (and can be countered by pulling the crosshairs down), and its spread is decent for the first few shots. Afterwards, its crosshairs expand rapidly and its recoil becomes akin to riding a bucking bull, to put it at the very least.
In the hands of a skilled player, it can easily dominate close quarter areas in maps such as Cold Case, and is effective for defending oneself when repairing a tank or assaulting the tank repairers in the Escort game mode. Its mobility is very high as well, allowing for rapid entry into the heat of action, as well as fast escapes from unwanted firefights.
The low capacity of the Uzi can be modified to 32 rounds instead of 25, which is highly recommended, as the Uzi expends ammunition extremely quickly and will often leave a player reloading at the most inconvenient times if not carefully monitored.
It is a common jest that this gun is simply a "weaker but silence-able Veresk", which would not be inaccurate to say given their similarly High DPS and very similar recoil patterns. However, do not underestimate this weapon because of that title; they are both high quality weapons and the tradeoff is really up to personal preference.
It should also be noted that the Uzi excells wonderfully at Prison Break: Survival, as the only negative aspects of the gun (Stability and range) are completely overshadowed by its pros (high rate of fire, high damage, high mobility, great recoil control, great DPS, Fast reload). However, the comparatively more popular Bizon PP-19 is more forgiving thanks to its larger mag, and thus is more suitable for a larger audience who just want a reliable weapon rather than a high-preformance one.
One of the most important advantages with Uzi is that it doesn't have a Range Penalty when the Silencer is equipped, in other words, damage is the same as when the silencer is not equipped. 
Bring of Ducky Rank, the Uzi is one of the few rentable weapons in ijji AvA. It is also one of the more recommended ones, and is definately worth trying.
This gun is now unavailable and removed from the shop from the March 3, 2014 patch, and was replaced by the Uzi MOD 0
Modifications
Edit
Barrel
Burst Barrel (Accuracy -0.3, Auto Fire ACC -0.2, Auto Fire +1.04)
Trigger
Exchangeable Magazine Type (Ammo +7, Mobility 0.7)
Grip
Silicon Grip (Accuracy +0.5, Auto Fire ACC +5.9)
Soft Grip (Accuracy -1.6, Auto Fire ACC -0.3)
Recommended Builds(s)
Edit
Variants
Edit
Ad blocker interference detected!
Wikia is a free-to-use site that makes money from advertising. We have a modified experience for viewers using ad blockers

Wikia is not accessible if you've made further modifications. Remove the custom ad blocker rule(s) and the page will load as expected.