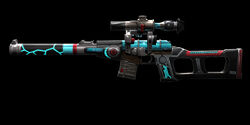 "

Insert text here, without quotes.

"



 

— Weapon Description 
Overview
Edit
The VSS Cannon is a skinned variant of the VSS Katana. It was originally released in the Cannon Box in the capsule shop during the 2016 Halloween update, along with the SPAS-15 Cannon and RX-4 Cannon. Statistically and performance-wise, it is identical to the Katana (with +1 bullet per magazine).
The exterior is very similar to that of the FAL Cannon, which came out years before this series. It has a very futuristic looking design, with a base coat of jet black with glowing blue portions along the barrel, rail, stock and grip of the gun.
See VSS Katana
Modifications
Edit
None
Variants
Edit
Ad blocker interference detected!
Wikia is a free-to-use site that makes money from advertising. We have a modified experience for viewers using ad blockers

Wikia is not accessible if you've made further modifications. Remove the custom ad blocker rule(s) and the page will load as expected.