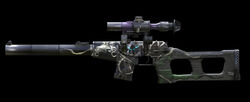 "

This weapon was designed to dispatch enemies to the Grim Reaper in style

"



 

— Weapon Description 
Overview
Edit
The VSS Death is an upgraded variant of the VSS Katana. It was only released exclusively on Aeria's webmall and in the Steam Death Pack DLC on Steam. Compared to the Katana, this version boasts nearly all the same stats, but a higher range stat (80.7 -> 84.0).
The exterior has a very "Grim" appearance (no pun intended). The stock is made out of wood, but painted jet black, as is the rest of the gun. On the middle of the gun, the Grim Reaper is stylized staring into your eyes, with his scythe pointing towards the barrel. On the stock of the gun, it reads "God of Death".
See VSS Katana
Modifications
Edit
None
Variants
Edit
Ad blocker interference detected!
Wikia is a free-to-use site that makes money from advertising. We have a modified experience for viewers using ad blockers

Wikia is not accessible if you've made further modifications. Remove the custom ad blocker rule(s) and the page will load as expected.