This article is a stub. You can help Alliance of Valiant Arms Wiki by expanding it.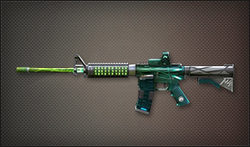 "

[X-plorer] A royal custom model of the M4A1 produced by Orville Gibson the Meister. It has an advanced overall ability and increased max. ammo.

"



 

— Weapon Description 
The X-plorer is a custom variant of the M4A1 currently only available in KAVA,JAVA,TAVA(HKAVA) and UAVA. It was released in KAVA's Mega Capsule shop and then was released on UAVA on Content Update 10/2/13.
No longer obtainable the X-plorer is based on the M4A1 MK.3. The accuracy is increased by 1 point but the stability is decreased by 2 points. The gun is similar to the MK.3 however the X-plorer has a bit more recoil which is a bit of a problem to the gun. People assume with these stats changes it will minor and still play role as the MK.3, but its not the case so burst firing is recommended. It has 5 extra bullets like the Corvus and has the damage increased by 1 per kill (Max is 3), again same has the Corvus. This gun isn't really controversial due to the fact that not that many people got the X-plorer due to the price and if due people have it, its probably in their inventory as a collectors gun due to little bit more recoil (assuming that's the case).
Modifications
Edit
EX-Plorer (100 Red Tickets)
It is like the upgrade kit of the X-Plorer. The range is increased drastically (+9), and overall gun is improved.
Recommended Builds
Edit
eX-Plorer Upgrade
It has the damage increase like the Corvus and its max is +3 and the new max is 37 so use the max damage to your advantage.
It has a bit more recoil so burst firing is recommended.
Notable Comparisons
Edit
M4A1 MK4
Statwise, the M4A1 MK4 posses the same stats as the X-Plorer, though accuracy was slightly decreased. Other than that, the X-Plorer and MK4 possess the same amount of recoil, damage (except for the X-Plorer Damage plus ability), and same ROF.
This gun's name does not follow the layout that its variants does, which is typically "M4A1" followed by the variant name. This gun is simply called "X-plorer", as can be seen in the inventory, in-game, and the Mega Capsule shop.
The gun does NOT have 2 reloading animations. The attached mag is just for cosmetics and does not affect reload speed.
Ad blocker interference detected!
Wikia is a free-to-use site that makes money from advertising. We have a modified experience for viewers using ad blockers

Wikia is not accessible if you've made further modifications. Remove the custom ad blocker rule(s) and the page will load as expected.