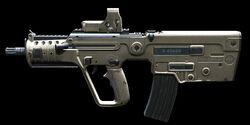 Burst Barrel, Reinforced Barrel
Custom Trigger, Mechanism Improvement
Silicon Grip, Ergonomic Grip
Overview
Edit
One of the most popular weapons for the Pointman class, the X95R sports a high rate of fire with decent damage and range.
Modifications
Edit
Barrel
Burst Barrel (-0.5 Accuracy, -0.4 Auto Fire ACC, +0.74 Auto Fire)
Reinforced Barrel (+3 DMG, -0.65 Auto Fire)
Trigger
Custom Trigger (+0.6 Control, -0.4 Auto Fire)
Mechanism Improvement (-1.4 Auto Fire ACC, +0.74 Auto Fire)
Grip
Silicon Grip (+0.5 Accuracy, -0.8 Auto Fire ACC, +1.3 Control)
Ergonomic Grip (+1.1 Accuracy, +0.9 Auto Fire ACC)
Recommended Builds
Edit
Burst Barrel
Mechanism Improvement
Silicon Grip
Variants
Edit
Shoot in short bursts while strafing as the recoil can get out of hand. You should ideally engage enemies in close quarters with this weapon as it has bad range and accuracy beyond 30 meters.
Notable Comparisons
Edit
Ad blocker interference detected!
Wikia is a free-to-use site that makes money from advertising. We have a modified experience for viewers using ad blockers

Wikia is not accessible if you've made further modifications. Remove the custom ad blocker rule(s) and the page will load as expected.