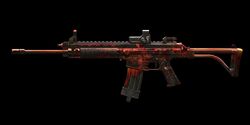 "

[XCR Ignis] The new version of the Robinson XCR with a truly explosive performance and a fiery finish.

"



 

— Weapon Description 
It was released in the 07/31/14 Content Update.
XCR Ignis performs much like XCR Kraken. Compared with Kraken, Ignis has lower cross-hair bloom, less recoil, its move shot accuracy is better, and the crosshairs are tighter overall.
Modifications
Edit
Unlike other XCR models, there are no available modifications for this weapon.
Recommended Builds
Edit
There are no mods available for this weapon
Notable Comparisons
Edit
Kraken 35DMG - Ignis 34DMG (-1 DMG)
Kraken 49 Range - Ignis 51 Range (+2 Range)
Kraken 55 Stability - Ignis 57 Stability (+2 Stability)
Ad blocker interference detected!
Wikia is a free-to-use site that makes money from advertising. We have a modified experience for viewers using ad blockers

Wikia is not accessible if you've made further modifications. Remove the custom ad blocker rule(s) and the page will load as expected.